What is Erectile Dysfunction: Its Causes, Symptoms and Treatments
Apparently, every man once in his lifetime hears about Erectile Dysfunction, and the proximity of many even suffering from it is, more. ED is the problem related to erection failure in men that happens during sexual intercourse. And the question that more than 90% of men ask when they face erection failure is "What is Erectile Dysfunction" and "How can you treat it"?
When you start learning about your sexual issue like Erectile Dysfunction, you get to know things and start relating to them. It helps you overcome the problem, but it enables you to fight with it in the future.
What is the meaning of Erectile Dysfunction?
Erectile Dysfunction or "stanbandh" in Hindi is the inability of a man to erect ideally during sexual intercourse. And sometimes, the case gets so worse that they cannot erect, or his erection doesn't last long for them.
Facing erection problems from time to time is not a significant concern for anyone. But when it goes daily, that is the time to get conscious of your sexual health. Frequent erection failure is not only bad for your sexual health but mental health as well. It causes depression, stress and results in bad relationships in some cases.
Is it normal to get Erectile Dysfunction?
Yes, it is normal for any man to suffer through this sexual issue. As said earlier, ED is one of the most commonly occurring sexual problems. However, just like any other health condition, ED can also be treated using medication and non-surgical ways. So, all you need is to be a little cautious and alert regarding your sexual health.
By taking regular check-ups and tests, you minimize the risks of getting severe health issues in future and maximise your sexual well-being.
Understand the Symptoms of Erectile Dysfunction
Knowing the erectile dysfunction symptoms will help you find your sexual problem and help you take proper treatment at the initial stage. In addition, treating ED before it gets severe will eliminate future health risks and chances to get other sexual issues as well.
Some people mix ED with low libido issues, which is not right. Low libido concerns a low sex drive that makes a man lose his interest to get close to his partner. However, ED is involved with erection failures. Ed and PE are two sexual problems having a cause-and-effect relationship.
A person suffers from ED if he has the following signs/symptoms:
If a person is not getting a firm erection frequently.
Whenever he gets an erection, it's challenging to maintain it for a long time.
Having a deficient sexual desire.
The person is depressed and has anxiety all the time.
If a man is suffering from delayed ejaculation.
Can Erectile Dysfunction Result from Psychological Disorders?
Psychological causes are proven to be responsible for erectile dysfunction in around 10-20% of the cases.
The process of erection takes place in a body due to the increased blood flow in the body. "The Blood Flow " that makes a man erect results from stimulating sexual thoughts in his mind. And when a person is not mentally prepared to have intercourse, it might get difficult to perform an erection ideally.
Causes of Erectile Dysfunction Seen in Men
Getting an erection is a very complex process and requires proper functioning of hormones, nerves, blood vessels, emotions and many other things. Any problem with the above-given stuff, and you get yourself ED issues.
To be sexually fit, you have to be fit by the body as well as your mind. Here are the causes of ED that a man commonly suffers from: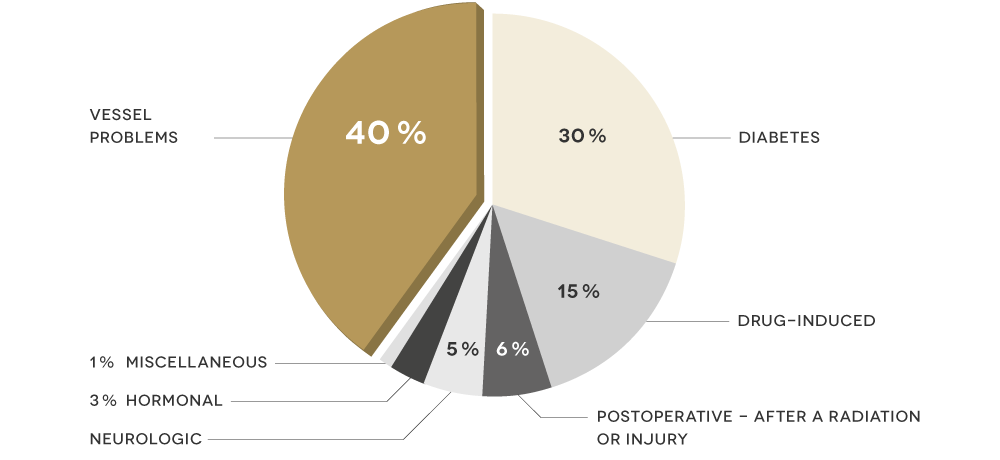 Physical Causes 
Cardio-vascular health issues that result from improper blood flow
Clogged blood vessels prevent proper blood flow in the body
High Blood Pressure
Diabetes
Any surgery or treatment of the prostate area or enlarged prostate.
Low testosterone level
Multiple sclerosis
Tobacco Use
Psychological Causes 
If a person has work-related stress.
Performance pressure between a couple
Relationship issues between a couple.
If a man has depression due to any issue.
Treatment for Erectile Dysfunction
Treating Erectile Dysfunction is essential for a person if he wants to live a healthy sexual life with his spouse. Your treatment will depend upon your underlying cause of ED and also your medical condition.
Medications, non-surgical and surgical methods help fight erection failures. Dr Chirag Bhandari is one such sexologist in India that offers the best treatments to eliminate ED issues. Dr Chirag is an expert in analysing or diagnosing the actual cause of ED and further providing an ideal treatment accordingly.
Any person who has Erectile Dysfunction can get ED treatment at the Institute of Andrology and Sexual Health, India.
What is the best exercise for erectile dysfunction?     
Cycling, yoga and other aerobic exercises are also helpful in dealing with erection failures.
A diet rich in proteins and fresh fruits and vegetables has greater benefits on overcoming ED.
Chirag Bhandari offers the best treatment for Erectile Dysfunction at IASH, India.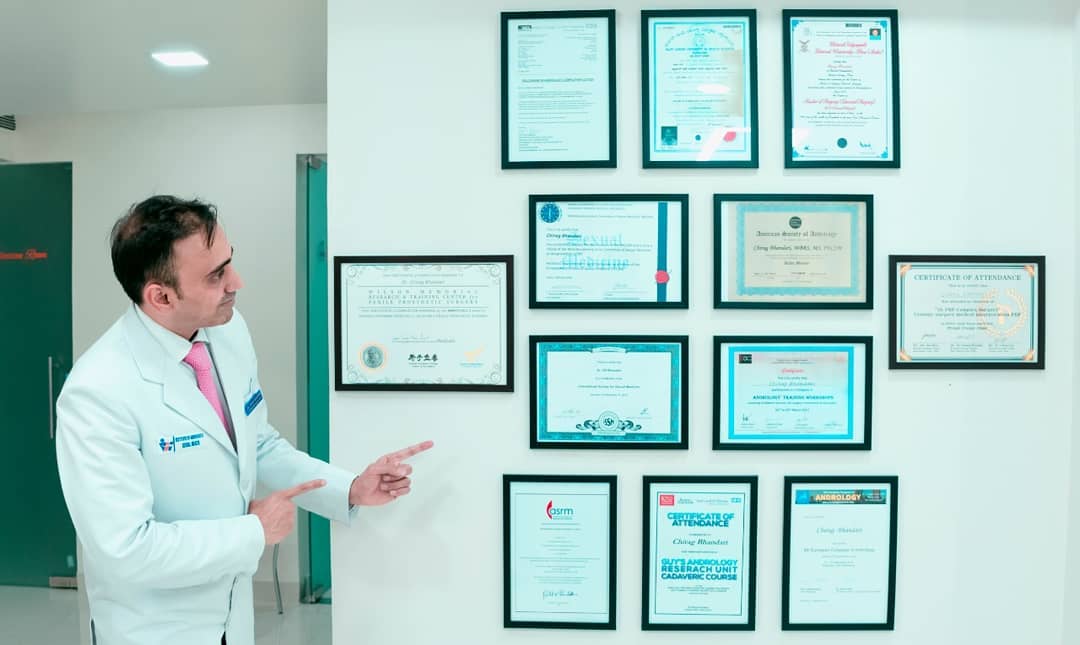 Dr Chirag is a renowned sexologist in India and an ideal choice for getting treatment for Erectile Dysfunction. With over 8 years of dealing with sexual issues, Dr Chirag has treated hundreds of people who have erection issues and could not enjoy their sexual life.
With the help of his international experiences and training, he brought the best and most advanced methods to cure erection failures. One of the best methods that he uses at IASH, Jaipur, is the latest Shockwave Therapy. This therapy painlessly improves erection without any surgery and is the most liked treatment for ED in India. In addition, Dr Chirag also offers medicinal injections (Bimix and trimix) and special therapy sessions to help people overcome the psychological factors of ED.