Big Cartel v/s. Shopify: Which is the best option in 2022?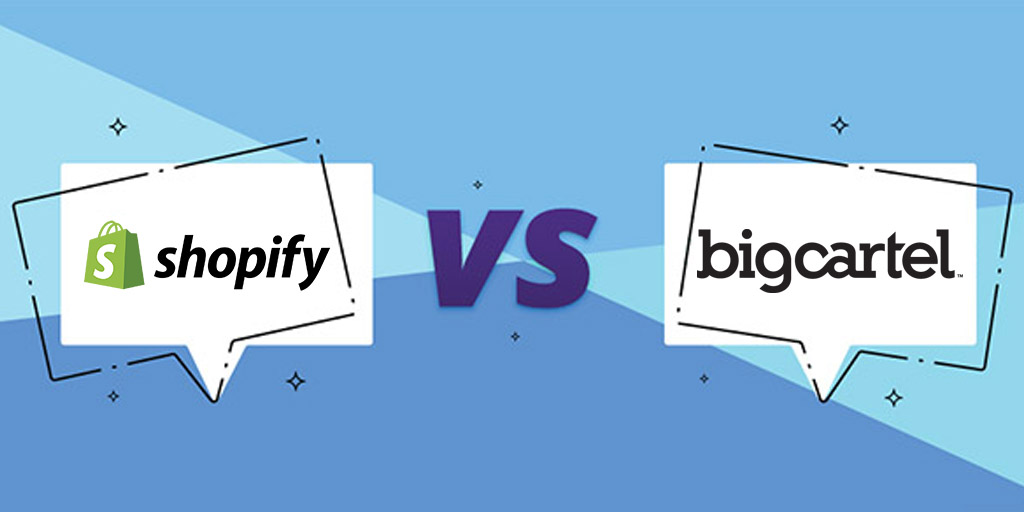 Big Cartel and Shopify are the two best e-commerce builders available for customers in the market. They both allow the customers to create an online retail store along with valuable features like billing, shopping, marketing, and some CRM tools.
They are both hosts for online store-building tools, put in simple terms. You are here because you are looking for the best option, and we are here to help you decide that.
Shopify and Big Cartel have their pros and cons. They are the best in different aspects so you can choose based on your needs. Looking at Big Cartel's website, it is clearly noticeable that it markets itself as the premier e-commerce platform for makers and artists.
This platform promotes being artist-friendly since the plans are low-cost and accessible, as well as the absence of fees. By choosing Big Cartel, you can surely build a web store that will catch your customers' eyes and be professional. You get all this without having to code a single line.
On the other side, a fully functional e-commerce website can be created with Shopify. This platform even offers you a free trial for two weeks, and then you can select the plan you wish to opt for based on your need for features and the size of your business. Although Shopify is more expensive than Big Cartel, it offers you more customization, apps, and features.
Overall, the two best platforms- Big Cartel and Shopify, will cater to your basic need of creating a website to sell your products. The difference that lies between both of them is how they let you customize the features, provide services and assistance, the cost of the plans, the ease of use, and others.
The best alternative to both these platforms is the Fynd platform, that helps you build your website at very affordable rates compared to Shopify and Big Cartel. It makes your task easier and builds from thousands of reviews. Fynd Platform gives you inbuilt gateway payment options that are safe and secure along with inhouse delivery partner.
Shopify vs. Big Cartel: Quick Comparison
Let's make a quick comparison between Big Cartel and Shopify according to their services and basic details.
Shopify makes it easier to use, but it might take a while for you to learn how to navigate their different interfaces. Big Cartel is fairly easy to use and it provides some amazing prompts but it requires you to know a bit of HTML coding to be able to edit themes.
Shopify provides 88 paid themes along with 9 free themes whereas Big Cartel gives 18 clean, mobile-optimized themes with limited features.
Shopify has some greatly robust features for all the different builders that were tested. On the contrary, Big Cartel has only fair but basic features covered like products, payments and shipping.
Shopify provides over 6,000 apps but Big Cartel gives only 1500 apps.
In order to take care of your product checking all the boxes of SEO, Shopify makes sure to provide useful SEO practices like clean URLs, headers, alt text and robots.txt files. Big Cartel also gives some great SEO tools like simple navigation along with clean headers, anchors and alt text.
Shopify provides you with 24/7 support through phone and live chat along with social media, email and forum. Big Cartel on the other hand only gives you email support from 9am-6pm IST and from Mondays to Fridays. When it comes to support, it scored the lowest among all.
Shopify gives you a 3 day free trial that does not require any payment information and the basic plan starts from Rs.1499 per month. You do not need to pay any transaction fees if you use Shopify payment mode. As with Big Cartel, their basic plan starts from $9.99 per month for 50 products and it moves forward with $19.99 per month for 500 products with no listing fees.
If you are looking for a more affordable option with a very user-friendly service, then Fynd Platform is the best alternative here.
The pricing plans of Fynd Platform start from just Rs. 599 per month and it goes up to Rs. 1499 for Professional, Rs. 2499 for Premium. The best part is that all three plans involve unlimited products unlike Shopify and Big Cartel.
Not just this, but they also provide you with an option of customizing your pricing plan based on your needs like domain integrations, various selling locations.
Let's get into the minor details of every aspect these platforms have which will help in making a better decision for the user.
Ease of Use
When building your own website and choosing the looks of it, it should not be a tiresome task but an enjoyable one. Running a website is not an easy thing and navigating through it should be easy. Big Cartel helps you build a really simple and clean website easily. Although if you wish to build a very advanced site then it is expected that you know basic coding.
Shopify in comparison can make it a bit tricky for you to handle initially. It requires a lot of back and forth movement from front end and back end. Even though the interface looks all simple, it is not that easy to navigate through the features since you need to tweak different parts in order to build your site. It is justified for Shopify to be a little more complex since it offers you more powerful ecommerce abilities than Big Cartel.
Here, the difference between both of them is just too minute so you can pick any of them, it will not make that big of a difference.
You can also opt for Fynd Platform which helps you build a fully featured website with custom pages in less than 10 minutes. It also offers to build android and iOS apps for your business.
Sales Features
The primary thing for an ecommerce business is to make money and that's where sales features play an important role. The platform should be flexible enough to receive online payments from multiple modes.
Shopify provides a wide array of options when it comes to accepting payments from various modes. It gives you about 100 payment gateways to choose from.
Not just this, but you also get to add and customize your app store via Shopify. It also covers all kinds of business from small ones to big brands. Unfortunately, Big Cartel does not match up to the level of Shopify but it is the best to go for if you are a small business venture with individual products to sell.
The basic ecommerce features provided by Shopify and Big Cartel are given in the table below for a quick glance:
| | |
| --- | --- |
| Shopify | Big Cartel |
| Unlimited bandwidth | Unlimited bandwidth |
| Discount codes | Discount codes |
| Staff accounts | Free themes |
| Finance reports | Bulk editing |
| Customer support | Inventory tracking |
| Mobile POS | Google analytics |
| Unlimited products | 5 to 500 products, as per plan |
| Abandoned cart recovery | Shipment tracking |
Payment Options
As mentioned above, Shopify gives you 100 different payment gateways to choose from along with its own where there is no extra transaction fee applied over the usual credit card fees.
Big Cartel only gives you some options to payment gateways- either Paypal or Stride. Even though the options are limited, it gives you a better feature than Shopify- Big Cartel does not apply transaction fees on any of them.
Shopify is fully PCI compliant but Big Cartel is not. PCI compliant means that all your financial details are safe and secured without any effort.
Design Functionality
When you build a website for your business, you surely want it to attract customers. The way you design it matters a lot in that aspect then. You can put in as much creativity as you want when you choose it to do with Shopify.
Shopify gives you 9 free themes and 80 paid themes to choose from. It also allows you to edit the mobile version and desktop version and keep both those looks in your control. It provides much freedom on your end to let you decide and customize the site according to your business.
Big Cartel surely does not give a wide range of themes to choose from like Shopify but just 18. It does not allow you to edit your mobile version, instead it automatically reformats the mobile layout. Some important features like product videos, image zoom, and customer logins are not provided by Big Cartel. It requires you to do a bit of coding if you wish to edit your own images.
Apps and Integrations
Shopify offers you about 6000 apps in the app store out of which half are free. They include free trial periods too and categories like marketing, store design, finances are offered. Of course, quality matters over quantity. It is not about the number but how useful it will be to customers. So you need to check the rating of the apps before you decide to use them.
Big Cartel gives you over 1,500 apps through a third party app vendor named Zapier. It automates different ecommerce-related chores. Even if you put aside the third party, Big Cartel still offers some 50 apps and integrations- around 6 to 8 apps in each category like marketing and promotion, store management. It also offers integrations for payment processors like Stripe, PayPal, Venmo.
Customer Support
Customer Support is not something that the builders look at primarily when choosing for a platform. It surely is crucial since it shows how much you care about your customers and you are ready to help them with any kind of issues. Hence, it is vital for you to select the one that offers 24/7 live chat feature and other means of support too.
Big Cartel's services are very limited when it comes to customer support. It provides you support only from Monday to Friday and in a fixed timeline of 9 AM to 6 PM EST. There is no live chat feature available but only email support. If you think you will not require any on the spot help while building your website and are pretty confident about it, then Big Cartel is a viable option for you, else not.
Shopify will not leave you alone when you are facing trouble in putting things together. It provides you help through so many options as listed below-
24/7 phone support
24/7 live chat feature
Forum
Email
Tutorial videos
Advanced specialist support
Social media support
Not just these, but if you opt for Shopify's plus plan then they also assign you a dedicated support agent to assist you directly and guide you thoroughly. Shopify also has a help center that has relevant articles where you can just search your query and find some answers.
Fynd Platform has a unique feature where it provides support in multiple languages which can really help your business to cater to a diverse audience all over the globe and resolve their queries.
Value for Money
It is just the start of business when you are building your website so you do not want to put in a lot of money in just the website builder platform. It should also help you make more money by all its services like design, customer support, etc.
Big Cartel provides you with three options that include the free trial version and two paid plans. The basic plan charges $9.99 to $19.99 per month with a product limit of 500. Comparing it with Shopify in the same currency then gives you plans ranging from $29 to $299 per month with no limit on the products and includes a 14 day free trial.
The one feature where Big Cartel takes an edge over Shopify is where it lets you sell online for free. You can just set up your store and make money without having to pay a cent to Big Cartel. You can avail the free service only until you sell five products. To sell more than five products, you are required to upgrade to their paid plan. The charges are just $9.99 per month, but then as you upgrade you might feel it is less value for money.
Big Cartel allows you to sell up to 50 products in the cheapest Platinum plan with five images per product. It comes with basic features like accessing google analytics, using a custom domain, unlocking full coding, inventory tracking and creating discount codes.
The Diamond plan lets you sell more number of products for $19.99 per month with a product limit of 500. These plans are not very scalable since by upgrading the plan you only get access to more products and there is no vital change in the features to make your business better.
On the contrary, Shopify takes care of the advanced features for your business when you move to  a higher plan. The prices are high too but the features are powerful. The cheapest Shopify basic plan starts at Rs. 1,499 per month and provides features as mentioned below:
Unlimited products
Multichannel integration
Two staff accounts
24/7 customer support
Shopify POS app
Discount codes
Abandoned cart recovery
This plan is the basic one to get you started with your business set-up. You can also upgrade as your business moves up. The upgraded plan is the most ideal for growing businesses. You get extra features in it like professional reports, and a host of add-ons for the expansion of the POS system.
If you are looking for some other option then you can easily opt for Fynd Platform whose basic plan of Rs.599 per month makes it very affordable for you and the highest goes up to Rs. 2,499 per month.
It covers some amazing features like creating site legal documents of policy, T&C for you, feedback capture mechanism, QR features, marketplace catalog generation, ML-assistance to show visually similar products to the customers, authentication and access management, multiple customization, various payment modes to choose from, development kits with themes and custom pages, training materials to guide you while building your site.
It is indeed a one stop solution for so many things.
Transaction Fees
Apart from all the charges you pay to buy a plan that includes all the services of design, apps, integration, customer support, transaction fees is another payment made by you for every transaction you receive.
The platforms do have their share in your transaction, they cut a little share for them in your profits so you need to be ready for that. A comparison of the rates charged by Shopify and Big Cartel is provided below.
Shopify leaves you with three different options of transaction rates based on the plan you are paying for. Under the basic plan, every transaction costs about 2.9%, main costs you 2.6% and the advanced plan costs 2.4%. Every plan charges an additional fee of $0.30. There is a better alternative to all these extra charges when you can just choose Shopify's own payment gateway- Shopify Payments.
Big Cartel does not handle bigger businesses and so the transactions are handled by a third party service. It is in partnership with just two services- PayPal and Stride for online orders.
Stripe charges a transaction fee of 2.9% of the total cost along with $0.30. Paypal charges you the same as Stripe- 2.9% with an additional $0.30.
The rates of Big Cartel are about the same as Shopify's highest transaction fees. So, for small stores you end up spending just the same amount whether you go for Shopify or Big Cartel. It is for the bigger business where the difference is noticeable.
Summary
Even though some big differences are there in both the platforms, it is important to note that the target audiences of Shopify and Big Cartel make all the difference.
Big Cartel is specially for artists and small businesses who can do with the basic features at affordable prices and have less number of products to sell. It helps you get started but does not give you much flexibility.
Shopify can work well for a wider range of business types be it small or big while providing quality features and huge customizations. Shopify has you covered on all ends.
Frequently Asked Questions
Question: Which is more user friendly and easy to use: Big Cartel or Shopify?
Answer: Big Cartel has a better interface when talking about ease of use. The basic editor helps you navigate through the building of your website. The process is simple and does not need any coding from your side. Shopify is a bit complex. The reason being it caters to all sizes and kinds of businesses. It expects you to know a bit of coding and lets you customize to a great extent.
Question: Which builder helps you in growing your business?
Answer: Shopify has plans according to your needs which provide you better features when you upgrade like inventory management system and advanced selling tools. Whereas Big Cartel only increases the number of products from 50 to 500 on upgrading the plan rather than upscaling on the services.
Question: What is each builder most suitable for?
Answer: Big Cartel focuses on small business ventures and specially for artists. You can get started with your business without having to spend a lot with its basic plan. It is the most ideal option for businesses with a smaller number of products.
Shopify works best for businesses that are looking for expansion and growth, whether small or big. Its marketing and selling tools help you advance in your business and make it a success